Download Top 60 Guitar Jam Tracks And Learn How to Play Blues Guitar:
Learn how to play blues guitar using the best 60 blues guitar jam tracks. These tracks include a wide range of genres, styles and tempo. This is a complete blues guitar learning package with blues backing tracks, scales, chord charts, improvisation guides and step by step instructions. You'll get all guitar notes and over 60 blues guitar tracks. With Blues Jam Session, you'll become a professional blues guitar player in two months.
These step by step video lessons and jam along examples are suitable for all levels of guitar players. You'll be given with all the keys and a full chord chart for each track. Each track comes with suggested scales and styles to use, plus jamming tips and tricks. Listen to the sample blues jam tracks before you order.

This course contains more than 3 hours of high quality video lessons and improvisation guides. See below for some of the highlights of these videos:
 Pentatonic licks and fills
 Acoustic blues finger-picking
 Crazy blues turnaround and riffs
 Soloing over blues and improvisations
 Step by step tutorials and exercises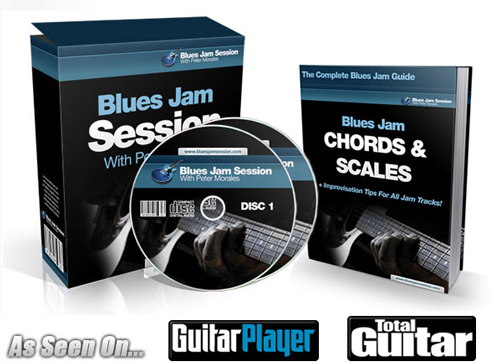 The Blues Jam Session Package Includes:
3+ hours of video lessons and step by step instructions.
 More than 60 blues guitar jam tracks in every tempo & style.
 Video lessons, guides, chords and scale sheets.
 Step by step instructions teaching you how to improvise.
Suitable for both electric and acoustic guitar. 
All instructions are very clear and easy to follow. Even a complete beginner would be able to master the blues guitar techniques within days by following the videos. 

How Much Does it Cost?
Blues Jam Session costs $49 for lifetime unlimited membership. This is one of the least expensive blues guitar learning software and is suitable for all levels of guitar players. This site will be updated with new content on a regular basis.

Also, it has a 60 day money back guarantee. If you are not satisfied with the course, your money will be refunded without any questions.
Click Here to Go to Free Internet Music Home Page 
Click Here to Go to Free MP3 Music Main Page